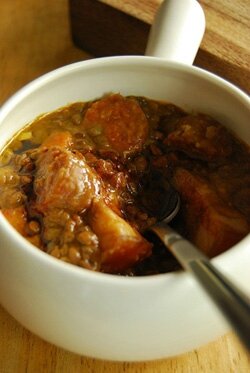 I grew up eating one kind of bean stew or other. Which is why, no matter what cuisine, a hearty bean stew, preferably generously ladled over a heap of steaming rice, is one of my ultimate comforts. A bowl of this can set my world right, cure all ills, and stave off any feelings of melancholy or disappointment.

When we were younger, my mother would make for us either fabada, a Spanish bean stew made with white beans, lentejas, the same but with lentils, or monggo guisado Smartcloud, a Filipino bean stew of mung beans. We loved all of it. My brother and I could wipe a bowl of monggo clean and still be fighting over the last bite. I have very fond memories of heating a (big) bowl of leftover beans and rice, slathering this with olive oil and vinegar, and hunkering down for a good afternoon's worth of reading…book in one hand, spoon in the other.

My husband finds it slightly insane how, when we have beans, I can have the leftovers for every meal until they are gone. Yes, that's every meal. In fact -- and if you have delicate sensibilities you should turn away now -- I feel that fabada is at its best right before it starts to turn…that peak of ripeness when all the flavors seem to be sharper than ever. It's a delicate balance and not for everyone -- I do not recommend it for any but the strongest (and bravest) of constitutions.

Frankly, it's a miracle (touch wood) that I haven't succumbed to some bean-related ailment.

Obsession aside, beans are low in fat, high in fiber, and a good source of protein. They are also, supposedly, rich in anti-oxidants. And if that weren't enough reason to have them in your life, they also make a pretty thrifty meal.

Lentejas (Lentil Stew)

Olive oil
300 grams lentils
2 onions, 1 peeled and left whole, 1 chopped
1 head plus 4 cloves garlic, the head peeled of outer layer of skin only and left whole, the 4 cloves peeled and finely chopped
250 grams Spanish chorizo (I use chorizo de Pamplona, a pack of four)
300 grams whole bacon slab
1 bay leaf
1 1/2 teaspoons Pimenton de la Vera (Spanish smoked paprika)
1 teaspoon dried oregano
freshly cracked black pepper
salt, to taste
optional: 1 medium carrot, peeled and diced


- Place the lentils, carrot (if using), whole onion, whole head of garlic, chorizos, bacon slab, bay leaf, and a good cracking of black pepper in a pot. Pour in enough water to cover by about 1 – 1.5 inches. Bring to a boil and then reduce to a simmer. Simmer for about 30-45 minutes or until lentils and carrots are soft. The meats should be cooked through at this point as well.
- Remove the bacon slab and the chorizo from the pot and cut both into chunks or slices, as thin or as hefty as you want them (I like to keep them hefty).
- Heat another pot over medium high heat. When the pot is hot add a couple of generous slugs of olive oil. Then add the chopped onions and garlic. Let this sauté until the onions are soft and translucent. Add the bacon slab, chorizo, Pimenton, and oregano and sauté further until the oil is tinted orange. Start adding the lentils and their liquid into the pot, stirring as you do so. Make sure to add the whole garlic and onion as well. Transfer all the lentils and carrots over to the new pot but you may not use all the liquid. Keep an eye on the consistency – add more liquid if you like it thinner, and less if you want it thicker. Just keep in mind that this will thicken as it rests. Cook, stirring, for about 10 minutes.
- Taste and adjust seasoning. Depending on the bacon you use this may be salty enough. If not them just add some salt. You can also add more Pimenton, oregano, or pepper at this point if you feel it lacks. Cook for a few minutes more, to let the flavors really meld together.

This is my basic recipe for lentejas, and by basic I mean that it is very open to interpretation (as most bean stews are) and is very easy to throw together dysport 瘦小腿. Just cook everything in one pot, and then sauté afterwards. This is very similar to the procedure I use to make munggo. I never used to include carrots in my lentejas before (which is why I've marked it as optional here) but that has changed since I've had a toddler on board. Now when I see a chance to add some vegetables to a dish I take it. The whole onion and garlic become soft and sweet in the cooking and I like to smash this into my rice. I still eat this with olive oil and vinegar, just like my mom taught me, but I imagine this would also be good with some garlicky Greek yogurt.


By the looks of it, little C is starting to love this as much as I do, if empty lunch boxes are any indication. I can't help feeling a warm glow of maternal continuity as I feed her something that was so much a part of my own childhood. And to this day, even if I make this on my own, I still look forward to having my mom's. Nothing can quite capture the degree of satisfaction hers brings me. I hope little C will feel the same.